The Gomers are feeling the increased training in this, the 13th Episode of Two Gomers Race a Triathlon, but that won't stop them from updating you and trying to be upbeat!
Anthony tries nose plugs and a swimming cap, and likes one of them.  Steven gets Jelly Legs after tying his first biking/running brick workout.  Baby wipes are good for more than wiping your baby.  Bikes are special to people, and they talk about them.  Drawing for the free tech-shirts takes place.  We thank a bunch of people for being awesome and generous.  And Steven gets a tattoo.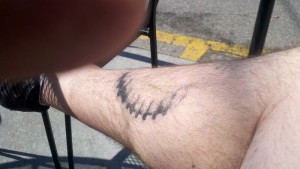 There it is.
Monday Survey: What's the one bike tip you'd wish you'd known as a beginner?  Happy Running!
Podcast: Play in new window | Download
Subscribe: Google Podcasts | RSS
Podcast (podcastseason3): Play in new window | Download
Subscribe: Google Podcasts | RSS