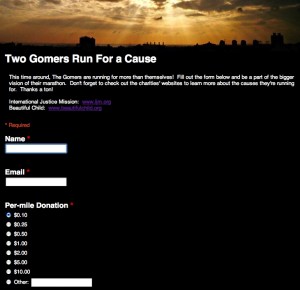 Surprise!  An unnanounced, full-length bonus episode just for you from the Two Gomers: Gomerthon 2010!
There's plenty of fun stuff in this special episode, including thoughts on how the Gomers are feeling 4 days before the race, top five marathon nutrition mistakes, "Peeps are Yucky" and "That Hurts More" memories, two more Songs to Run to, and tons of Full House chat…
…but the main reason for Gomerthon 2010 is to remind you to pledge toward our Run for a Cause.  You have four more days to donate (right up until the Marathon on the morning of June 6th), so if you've wanted to and haven't gotten to it yet, now is the perfect time to pledge!
Click here, or on the form at the very top and bottom of this post, to pledge per mile to the charities The Gomers have chosen:  The Leukemia and Lymphoma Society, Beautiful Child, and International Justice Mission.  If you pledge $1 or more per mile, you're entered into a drawing for a VERY RARE "Team Gomer" long sleeve T, like the ones The Gomers will be wearing at the start of the race.
And don't forget to check out the websites for the charities to learn more about these causes that are so close to the Gomers' hearts.
Thanks so much, and Happy Running!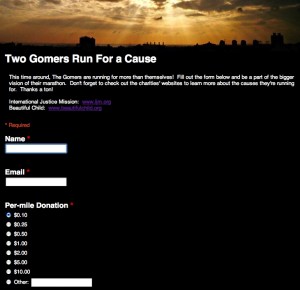 Podcast: Play in new window | Download
Subscribe: Google Podcasts | RSS
Podcast (podcastseason3): Play in new window | Download
Subscribe: Google Podcasts | RSS