It's the week before the Marathon, and the guys are alternating between feeling nervous and feeling excited – it all depends on the size of the crayons in their dreams.  Join them in their final regular episode of the season as they discuss the benefits of trail running, the power of clean kitchens, the ability of young'ns to work with accelerometers, the audacity of television premieres, and the glorious wonders of the moon, presented  inexplicably with Wiimote in hand.
And of course, all your favorite sections: Week in Review, Listener Feedback, Gomers Tips, and two (or more) new Songs to Run To.  Happy Running!
This week's Monday Survey:  Do you have any favorite moments of this season of the Two Gomers?  Any encouraging words for them before they run on Sunday?  Seriously, they need all the help they can get!
And don't forget, you have till Saturday night to donate to our Run for a Cause – if you haven't yet, click the link below to get on board!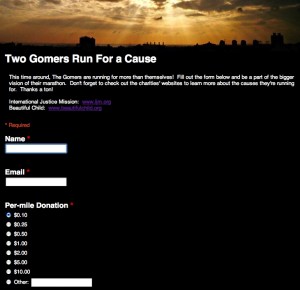 Podcast: Play in new window | Download
Subscribe: Google Podcasts | RSS
Podcast (podcastseason3): Play in new window | Download
Subscribe: Google Podcasts | RSS