This was supposed to be a placeholder for our second special, but it turned into a half hour of fun chat! We do talk a bit about our second of two "Spring" Specials: Two Gomers Get Nostalgic…but we thought you'd enjoy the full conversation regardless.
In this special discuss our obsession with the past and talking about what was, and whether that keeps us stuck or could be used as fuel for the future.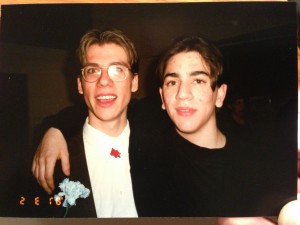 Plus a TON of fun stuff along the way. It's a really great one with a unique twist – it's all recorded while we were together and outside, in the shadows of the Capital building in Madison! We can't wait for you to hear it.
If you want access to the full special, click the Donate button at twogomers.com to contribute and gain incentives!
$10 or above gets you both Specials, and a thank you shout-out on the podcast
$20 or above gets you the both specials, the thank you on the podcast, and the "Movie Pack" (All of our videos which have been taken off of the podcast feed because of their size, plus two lost movie-centric episodes (Star Trek: Into Darkness and The Hobbit)
$26 or above gets you everything above plus the "Everything Pack": All 19 (!) of our Specials, plus the Gomer EP, Lost Episodes, Lost Gomerpics, and more!
Thanks for helping us keep the lights on, and Happy Running!
Podcast: Play in new window | Download
Subscribe: Google Podcasts | RSS
Podcast (podcastseason3): Play in new window | Download
Subscribe: Google Podcasts | RSS