Well, the big news is that WEEEEEE did it!
After only 8 years, Steven finally accomplished the goal of a Sub-5 hour marathon, and Anthony was there to see it. Join them as they talk through the race from before the start ("What's your go-to channel at a hotel?") to after the finish ("It's the chocolate milk that's really making me feel like puking right now.") and everything in between ("I thought I was going down, and if I did, I wasn't going to be getting back up").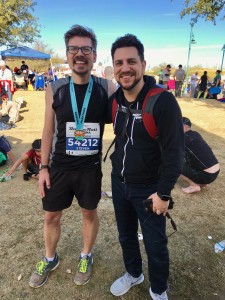 Also, get ready for the most tangents per episode maybe ever, culminating in a conversation that bounces between Carrie Fischer's screenwriting chops, Kevin Kline's ownership of a running business, and Rob Lowe's sweaty saxophone skills (and sometime all those things at once). It's an instant classic you won't want to miss!
We'll be back with mid-season finale or two, not to worry. Happy Listening, and Happy Running!
_______________________________________
Don't forget January is Two Gomers Fundraising Month! Click on the yellow "Donate" button to the right to help keep the GomerLights on, and to earn incentives:
$5 or above gets you access to our February Special
$10 or above gets you Spring Season Pass (February and March Specials), and a thank you shout-out on the podcast
$20 or above gets you the Spring Season Pass, the thank you on the podcast, a signed picture of Steven finishing marathon, and the "Movie Pack" (All of our videos which have been taken off of the podcast feed because of their size, plus two lost movie-centric episodes (Star Trek: Into Darkness and The Hobbit)
$26 or above gets you everything above plus the "Everything Pack": All 17 (!) of our Specials, plus the Gomer EP, Lost Episodes, Lost Gomerpics, and more!
Podcast: Play in new window | Download
Subscribe: Google Podcasts | RSS
Podcast (podcastseason3): Play in new window | Download
Subscribe: Google Podcasts | RSS