The first half of our #Sub5By40 season is in the bag! Join the guys as they spend the bulk of this episode recapping a rare treat to end the season and celebrate Steven's 40th – an entire weekend together. Spoiler: they ate a lot. French toast, Chinese food, pizza…and the frog. Plus, Jurassic Park Chaaaaaat!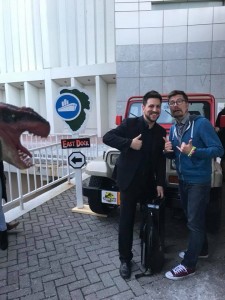 Also, you'll get an update on why Steven hasn't run for the past two weeks (it's not great), and hear about Anthony's 15 minutes of fame as he is mentioned (ok, more than mentioned) in a powerful sermon at his church in Atalanta. After you listen to this finale episode, check out the sermon link below – the set-up to Anthony's part starts at the 44 minute mark. We know you'll love it!
Happy Running! If you gave to the Gomers in the past several months, expect a special in March and again in April! If you'd like to get access to these specials, click on the Donate Button and give $10 or more. Thank you, see you in the second half of #Sub5By40!
Podcast: Play in new window | Download
Subscribe: Google Podcasts | RSS
Podcast (podcastseason3): Play in new window | Download
Subscribe: Google Podcasts | RSS