If you're just finding us because of the recent shout-out on Stuff You Should Know, this is a great place to start: our most recent "Race in Review" from this past January. Another great starter episode – one a bit more typical of the podcast – is Season 7 Episode 4, "Hometown USA." Then, feel free to listen from the beginning, our whole crazy journey is there for the listening! Welcome to the Gomernation!
___________________________________
After only 8 years, Steven finally accomplished the goal of a Sub-5 hour marathon, and Anthony was there to see it. Join them as they talk through the race from before the start ("What's your go-to channel at a hotel?") to after the finish ("It's the chocolate milk that's really making me feel like puking right now.") and everything in between ("I thought I was going down, and if I did, I wasn't going to be getting back up").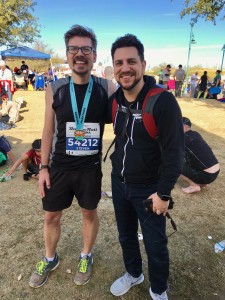 Also, get ready for the most tangents per episode maybe ever, culminating in a conversation that bounces between Carrie Fischer's screenwriting chops, Kevin Kline's ownership of a running business, and Rob Lowe's sweaty saxophone skills (and sometimes all those things at once). It's an instant classic you won't want to miss!
Happy Listening, and Happy Running!
Podcast: Play in new window | Download
Podcast (podcastseason3): Play in new window | Download