Welcome to the all new Gomer Website!
Here are a few updates to the site to help with navigation. Come back often as there may be more "fun stuff along the way."
Look and Feel – After 10 years we decided it was finally time for a new look and feel for the site. Still going with a dark background but an easier to read main section where you can page through all the podcasts.
Menu Bars – The top title bar has a couple basic menu items and a search button if you are ever looking for a specific episode. The left side has links to some podcast goodies including connection with the Gomer Nation, Songs to Run to, and links to podcast pages by category. At the bottom of the page you can connect with the Gomers through their social media.
Featured Posts -Near the top you will see a collection of featured podcasts including the most recent "All New!" episode.
Thanks for visiting! Add a comment below if you notice any issues or have ideas for the website.
Also, if you're feeling nostalgic…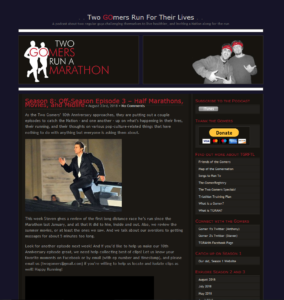 Newest Pages – Check out the updated listing of Gomers Favorite things and be sure to read through the tributes provided by the Gomernation as part of the 10 year anniversary.